QWERTY Afterlife service version 2.0, at Art Fair Suomi 2017, 25.-28. May,
Cable Factory
Tallberginkatu 1 C,
00180 Helsinki,
FINLAND
Lip-singing in the Afterlife (NO sound)
Songs: "Knockin' on heavens door", "Somewhere over the rainbow", "Imagine", "Stairway to heaven"
"Stairway to heaven", Lip-sing in the Afterlife, Suomi Art Fair 2017
Art Fair Suomi 2017: http://artfairsuomi.fi/afs_2017/en/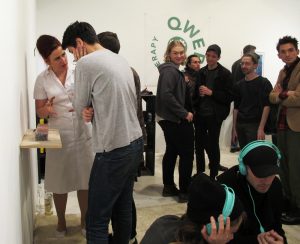 QWERTY Therapy, ArtHelix 20th-23rd October 2016, The exhibition was funded by The Danish Arts Counsel.
ARTPILLS; art therapy by Indigo Richards, I AM NOT ACTUALLY A BARTENDER; beer therapy by Anders Qvist Nielsen, RESOUND; sound therapy by guest; Tine Louise Kortermand, and Morten Tillitz; drawing therapy in the waiting room.
The exhibition is Exchange Rates: http://sluice.info/er2016 The Bushwick International Expo, The second collaborative exposition of galleries and projects in and around Bushwick, Brooklyn, NYC.
The exhibition is organized by London based initiative; Sluice_ and several prominent Bushwick galleries such as Centotto and Theodore art.
Photos from QWERTY THERAPY sessions 20th-23rd October 2016: