At Susak EXPO 2018, the Danish art group QWERTY, were inspired by the renaissance painting by Raphael; The School of Athens.
QWERTY performed 3 days in a row, at the main staircase between upper and lower Susak 8th-10th of May 2018.
The form was lectures/talks/performances from each artist. All QWERTY members came to the remote island of Susak to find their authentic selves.
Indigo Richards performance was a manifestation of the hippie jacket, a personal history of loosing her self as a 10 years old girl, moving to another country and being teased by young girls. The jacket took a journey over 3 days being rinsed by the 4 elements.
QWERTY homepage: http://tifinger.dk/
http://susakexpo.com/osmans-cafe/
QWERTY Salvation Vaasa, Finland 14.-16. dec. 2017
Both our guests, and our own soul need salvation.
People hurt and seek meaning of life, with art, QWERTY is looking for an escape.
Qwerty was invited by TAIKE Arts Promotion Center Finland and Platform to exhibit in Vaasa.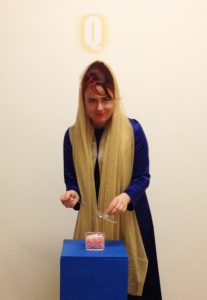 QWERTY Afterlife service version 2.0, at Art Fair Suomi 2017, 25.-28. May,
Cable Factory
Tallberginkatu 1 C,
00180 Helsinki,
FINLAND
Lip-singing in the Afterlife (NO sound)
Songs: "Knockin' on heavens door", "Somewhere over the rainbow", "Imagine", "Stairway to heaven"
"Stairway to heaven", Lip-sing in the Afterlife, Suomi Art Fair 2017
Art Fair Suomi 2017: http://artfairsuomi.fi/afs_2017/en/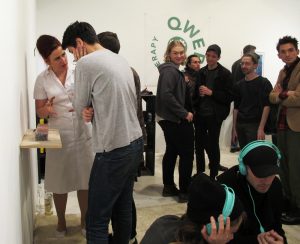 QWERTY Therapy, ArtHelix 20th-23rd October 2016, The exhibition was funded by The Danish Arts Counsel.
ARTPILLS; art therapy by Indigo Richards, I AM NOT ACTUALLY A BARTENDER; beer therapy by Anders Qvist Nielsen, RESOUND; sound therapy by guest; Tine Louise Kortermand, and Morten Tillitz; drawing therapy in the waiting room.
The exhibition is Exchange Rates: http://sluice.info/er2016 The Bushwick International Expo, The second collaborative exposition of galleries and projects in and around Bushwick, Brooklyn, NYC.
The exhibition is organized by London based initiative; Sluice_ and several prominent Bushwick galleries such as Centotto and Theodore art.
Photos from QWERTY THERAPY sessions 20th-23rd October 2016: